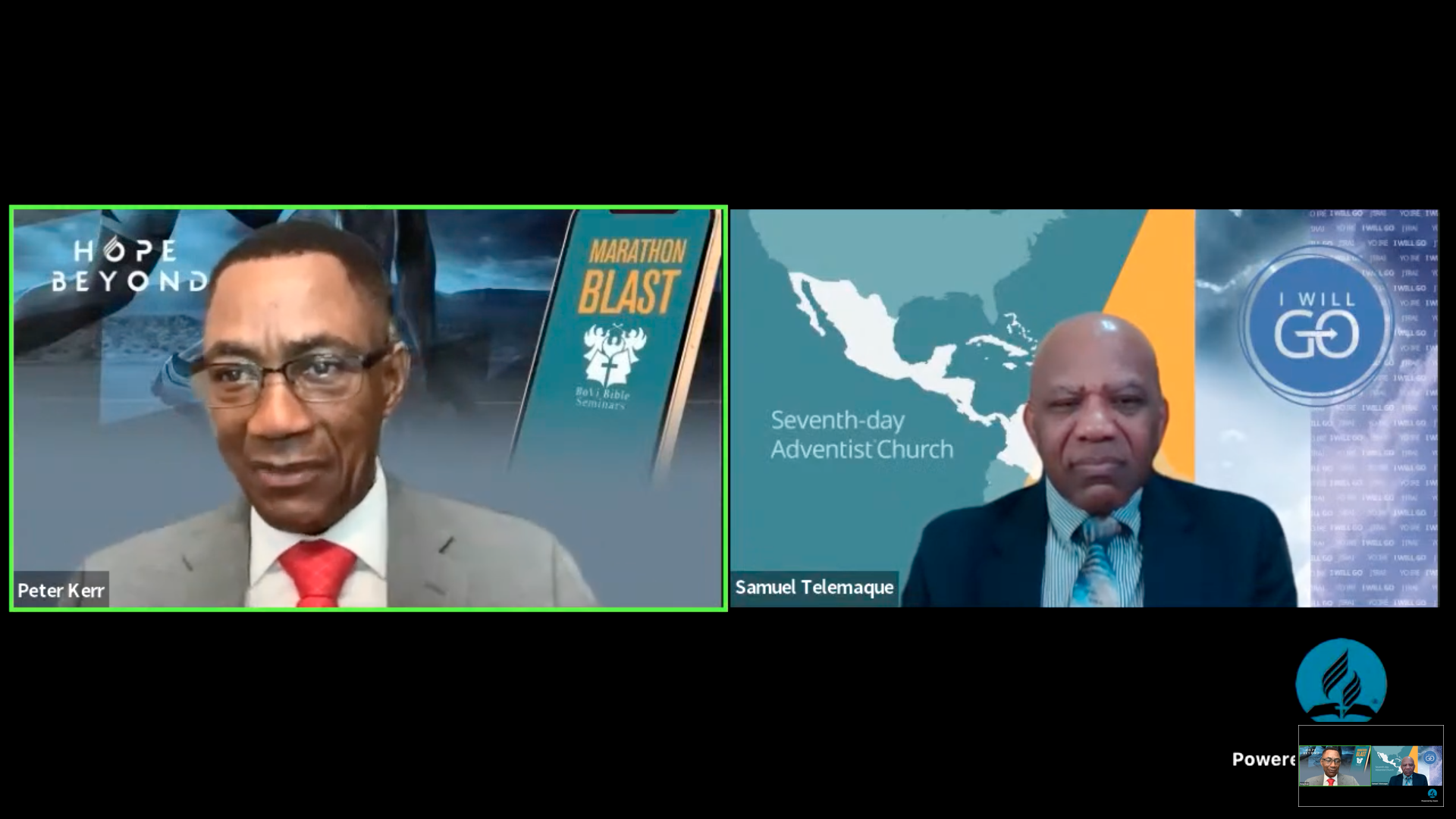 On Sabbath afternoon, December 18, 2021, the fire of evangelism within the Atlantic Caribbean Union (ATCU) blazed as members continue to prepare for the virtual Footprints of Hope evangelistic series that is set to begin on Sabbath, January 15, 2022.
In conjunction with the Inter-American Division's breaking the evangelistic glass ceiling initiative, the four fields within ATCU gathered virtually to share their approach to soul winning as final preparations are put in place for this division-wide evangelistic thrust. Representatives from each field expressed their joy for what has already taken place and their excitement for what God will do leading up to and during this virtual campaign. Marvin Green from the North Bahamas Conference shared how excited they are in Abaco and how they have been fasting and praying over this effort. He indicated that they have registered to date over 150 people for the Happy Family Bible lessons.
Throughout the union, the youth have been actively involved in preparing to ensure that the gospel of Christ is preached. Pastor Carlon Nyack, Youth Ministries director of the Cayman Islands Conference, shared that the young people will be utilizing their technological gifts and talents during this online evangelistic series.
Before the close of the rally, Pastor Peter Kerr, president of the Atlantic Caribbean Union, expressed his desire to have total member involvement, which includes working by twos to lead two to Christ in 2022. He hopes to see at least one thousand new souls brought to Christ through baptism, expressing that members are to "use every available resource that God has given you to reach somebody and lead somebody to Christ."
The rally closed with Pastor Samuel Telemaque of the Inter-American Division challenging the fields of the union to keep the energy high and allow Christ to lead as they complete this work with His help. With a membership of 33,130, ATCU, which is headquartered in Nassau, New Providence, The Bahamas, comprises four fields, namely, the Cayman Islands Conference, the North Bahamas Conference, the South Bahamas Conference, and the Turks and Caicos Islands Conference. In addition, Northern Caribbean University, which is located in Mandeville, Jamaica, is jointly owned and operated by ATCU and the Jamaica Union.