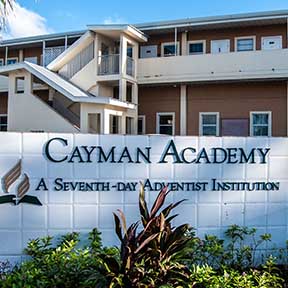 The successful candidate will be responsible for providing professional leadership and management for Cayman Academy of Seventh-day Adventists, a K-12 institution, ensuring that all students receive a high-quality Adventist education in a supervised and safe environment; and instructional and support staff are empowered in a collaborative environment.
Core Responsibilities:
Spiritual nurture of students, teachers, and support staff.
Leadership and instructional supervision of all educational and support staff.
Organizational management according to institutional policies and educational best practice.
Creation and maintenance of a positive school climate conducive to wholesome learning.
Creation and maintenance of a positive school-community environment.
Promotion of team-building efforts among staff, students, and parents.
Carry out functions of school leader as defined by the Cayman Islands Education Law (2016).
Minimum Candidate Requirements
Master's degree in Educational Administration or another field in education from an accredited institution
Trained Teacher Certification
Seventh-day Adventist Certification preferred
Five (5) years' experience as a principal, vice principal, senior teacher, or head of department preferably in an Adventist institution.
Excellent interpersonal and communication skills.
Understands and is committed to the distinctive qualities of Seventh-day Adventist education.
Gross Salary (Subject to statutory deductions): KYD44,622 (US53, 095) – KYD69,264 (US82,457) per annum
Additional benefits will be determined in accordance with the Working Policy of
the Seventh-day Adventist Church
INTERESTED PERSONS SHOULD SUBMIT THEIR RESUME AND COVER LETTER TO:
Chairman,
Principal Search Committee at
Email: cayman.academy@caymanacademy.ky
Deadline for receipt of applications: 22 November 2022